SILK SCREEN PRINTING & EMBROIDERY
EXPERTS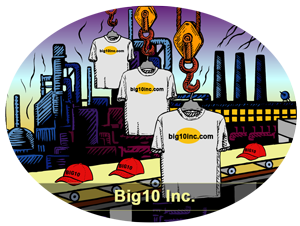 WE SPECIALIZE IN SILK SCREEN PRINTING & EMBROIDERY FOR:
Apparel
Bandanas
Banners
Baseball Caps
Beach Towels
Beanies
Bucket Hats
Camisoles
Caps
Carrier Bags
Clothing
Corporate Apparel
Emblems
Event Apparel
Fabrics
Flags
Flip Flops
Gatsby Caps
Golf Shirts
Halter Tops
Hats
Headbands
Headscarves
Hoodies
Jackets
Lanyards
Logos (on all items listed)
Personalized Clothing
Patches
Polo Shirts
Ribbons
Shirts
Shorts
Sweatpants
Sweatshirts
T-shirts
Tank Tops
Tee Shirts
Tees
Textiles
Tote Bags
Towels
Visors
Yoga Pants
Proudly Serving Southern California since 1982
Silk Screen: 24 Piece Minimum  | Embroidery: 24 Piece Minimum
(Subject to Art & Design Review)
WE OFFER:
Factory Direct Pricing
Custom Designs
Top Quality Imprinting
Top Quality Embroidery & Monograms
Fast Turnaround
Huge Apparel Selection
Organic and Eco-Friendly Products & Water Base Inks
BIG 10 Inc. has been serving the promotional needs of the business community since 1982 and has enjoyed tremendous success through creative concepts, competitive pricing, and most of all superior customer service.
Due to our State Of The Art In-House Graphics Department and Silk Screen Printing and Embroidering Equipment, BIG 10 Inc. has complete control of each phase of production; from artwork creation to Drop-Shipping directly to any event, eliminating any "Middle Man" costs and enabling our clients to maximize their marketing dollars.
Clients such as Starbucks, Gold's Gym, Hard Rock Hotel, Spike Channel, Ashanti, Ford and Stolichnaya Vodka all know the value of saving money and use Big 10 for their promotional needs.