SILK SCREEN PRINTING & EMBROIDERY
EXPERTS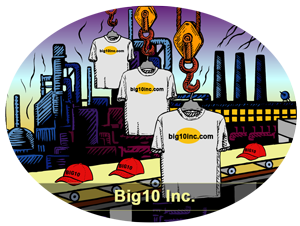 Proudly Serving Southern California since 1982
Silk Screen: 24 Piece Minimum  | Embroidery: 24 Piece Minimum
(Subject to Art & Design Review)
Need Pens? Coffee Mugs?
Water Bottles? Desk Top accessories or something unique? Big 10 is your #1 source for these ad-specialty items and many more.
Let us help you to find the right items to positively extend your image and message to your staff, clients and future customers. You will be amazed how far a small investment can go!
Do you exhibit at trade shows or conventions?
A give-away item can help to increase your sales, engage your prospects and turn those tire-kickers into new customers.
Are you planning a new product launch?
We have an item that can help you to break through the clutter, enhance your product's profile and have it stand above the crowd!
Need a fundraising tool for your school, non-profit or faith-based organization?
Big 10 has 1000's of low-cost products to help you to reach your goals fast!
Select from 1000's of items from our immense data base. Plug in a key word or two and you will filter a selection of ad-spec items at the price range and quantity that you desire. Ordering is easy and turnaround times usually vary from 1 day to about 2 weeks.
Gifts and Holiday Gifts:  Looking to make a big impression? We offer a large selection of very fine giftware in many categories for that special client or for the holiday season. For example, you can close your big deal with a beautiful and elegant Montblanc Pen or a Tag Heuer watch, discreetly engraved with your company name and message to mark the occasion. Other items include a large array of custom decorated fine crystal glassware, leather cases, durable luggage and much, much more to impress your colleagues and clients and show them that you care.
We proudly serve Southern California and beyond.  With our large data base of sources we can arrange to have your order delivered to your office or directly to the event, wherever it may be, saving you the expense and hassle of transporting it to the venue.
Ad-Specialty is an extremely effective and cost-efficient way to promote your product or organization. It has worked for decades and it will work for you!  Think about it: You never forget who gave you that useful pen, calendar or travel mug, and neither will your prospects and customers!