SILK SCREEN PRINTING & EMBROIDERY
EXPERTS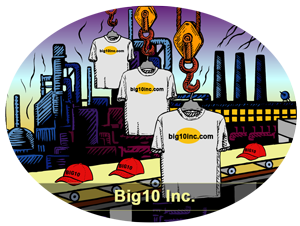 Proudly Serving Southern California since 1982
Silk Screen: 24 Piece Minimum  | Embroidery: 24 Piece Minimum
(Subject to Art & Design Review)
Big 10 has Hoodies in every size and style to keep you warm, fashionable and covered!
We serve Los Angeles, Orange County and all of Southern California, and ship to all 50 states. Whether you are just around the corner or going to an out-of-town event- we'll make sure that your hoodies arrive on time!
Let your imagination run wild – your decoration ideas have no limit on this big, comfortable canvas!
Hoodies are usually screen printed or embroidered, but we also offer fun decoration techniques like Metallic Foil, Patches and Crystals.
Our design staff can assist you to ensure that you get your hoodies decorated your way.
Make a statement and promote your brand with a fresh order of hoodies that your staff and customers will wear year round, year after year.
FULL ZIP:  The choice for comfort and convenience. Full Zip hoodies are easy to slip on and off and they come in Adult, Ladies and Youth sizes.  There are many brands, colors and fabrics to choose from at all price levels.
PULLOVER:  The most popular choice for schools and concerts. They feature Kangaroo pockets for warming up cold hands and to help hold your valuables.
QUARTER-ZIP WITH OR WITHOUT A HOOD:  Get the best of both worlds with an easy to put on and take off hoodie that keeps you warm and comfy dry.
At Big 10 we have every size, color, fabric and style to outfit everyone on your team- from tiny children to plus-size Adults.